So, have you stumbled upon a unique idea that will change the world in your own small way? Have you also figured the revenue model and implementation plan of your new startup? The team, technology, co-founder, prototype, proof of concept and all else in place? What next? Go live?
What about your brand?
Wait, you want to approach this topic after you have got decided traction in the market and validation via product or concept acceptance. Don't you?
In the meanwhile, lets hire a freelance graphic designer, a web developer, an app developer on hourly basis and a cousin who is free to handle your social profiles. Seems like you're good to go. Oh wait, missed out on the content creator, which are ample in market on per word basis. Now that's all you need. No?
Well, maybe. If you are looking for niche expertise from a single point of perspective and an uncoordinated team with compounded turnaround times; that is all you need.
The same is usually the approach, lets hire each unique and we will have branding, social media, PR all taken care. How about taking a small boutique agency who will do all for you?
Here is list of simple facts , why a startup needs good agency :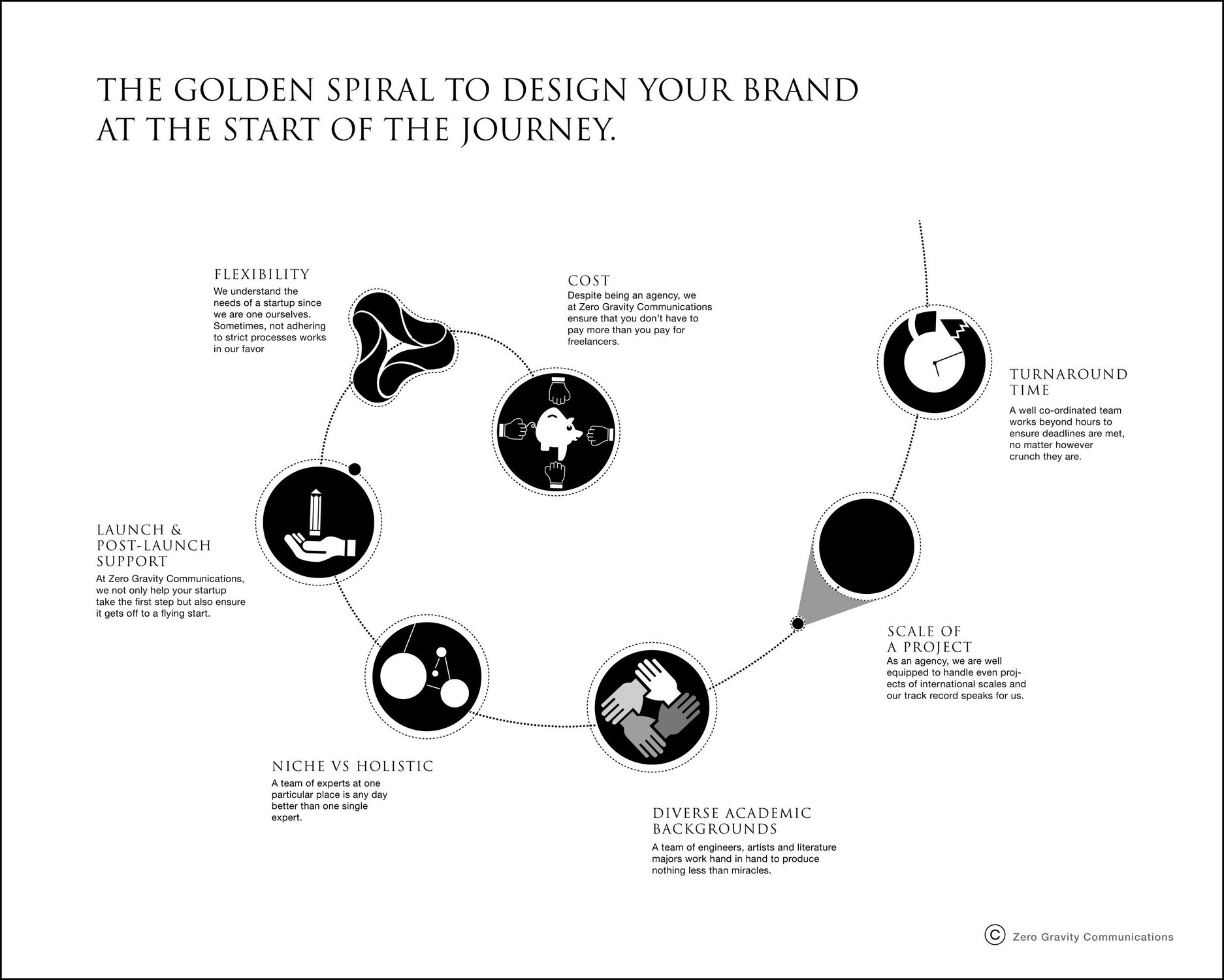 1. Cost
While freelancers might come cheaper on face value, the coordination, explanation, follow up and commitment will drain not just time but also your valuable resources. Rather, go for a small but a committed team that understands what startups genes need.
2. Flexibility
Your startup always needs urgent, collaborative and agile services. Choose a team that works with same characteristics as yours.
3. Niche vs. holistic
An entrepreneur knows solution, knows consumer, and knows how to execute but might not necessarily know how visual identity or brand communication work. A good freelancer knows how to design a logo but might miss out on how it will look when applied on the product or how a social media campaign needs to be run or how to make your website / UI will follow the same brand story.
You need both niche and holistic perspective when you start communicating as a brand.
4. Launch & post-launch support
You freelancer is a great designer but he/she is on vacation during your product launch. Now what? Find another one?
A complete handholding is important, don't next week but do think of tomorrow as startup.
5. Diverse academic backgrounds
Like a startup needs right mentors, accelerators, angels they also need diverse team to help them with "branding" to validate, contradict, correct and work as inclusive teams.
6. Scale of a project
Today you are two guys, working out of a garage. Tomorrow you might sit in your happing Bangalore office and a year later, if things work out, Silicon Valley shouldn't be too far. Let's not go that far because that is the dream when you start, but along the way you need a team that can ramp their team for you, communicate and talk in same language that you do. Choose your team keeping the scale in mind.
7. Turnaround time
The lack of co-ordination and no physical presence at the same place results in a huge gap between reception and delivery. Contradictory to general perception, we at Zero Gravity Communications deliver within crunch deadlines provided by startups even if it means working on Sundays
With many freelancers working from home, they can often pass on considerable savings made through low overheads." "It's very tempting to use this as a selling point. But I wonder… if the end product has the same value to the client, shouldn't the fees be the same? I'm defining value in terms of improving the client's condition — stronger brand recognition, improved perceived value of their products/services, higher sales, looking better than the competition, and so on.
"For example, if Mercedes Benz figured out a way to produce their vehicles for the cost of a Hyundai without compromising quality — wouldn't, shouldn't they still charge the same high prices for their exceptional product? " Seems to me if I can produce the same quality work with lower overhead, then that just means I'm running a better business than the larger firm." — — — — — — — Aaron, of Aaron Russell
"Collectively, a decent agency can offer a much broader skillset than any freelancer can offer — and by that I mean much more than a group of collaborating designers. For instance, in an agency you could find experts from a direct marketing background, SEO experts, branding gurus, technical web geniuses, etc. Whilst it's plausible a freelancer could be an expert in one or more niches, it's unlikely they can cover all the bases an agency can."
In an attempt to save on the expenditure on branding in early stage, startups not only compromise on the quality but also miss out on fine details due to the lack of coordination in their freelance team. While the fear of spending more is understandable, the cost they have to pay in terms of a strong foundation of the BRAND is massive.
Hiring freelancers might be a lucrative option when it comes to spending on the branding, but the loopholes that come along with it might cost more in the long term. While a freelancer can offer niche expertise, he/she won't be able to keep up with the holistic solution that a boutique agency or team can provide.
Don't forget your start up is "an Idea" that needs to be converted to a "Brand with a unique position"
Read More Articles: